Hidden Opportunities: Pest Management, Minimizing Plan Losses through Fee Disclosure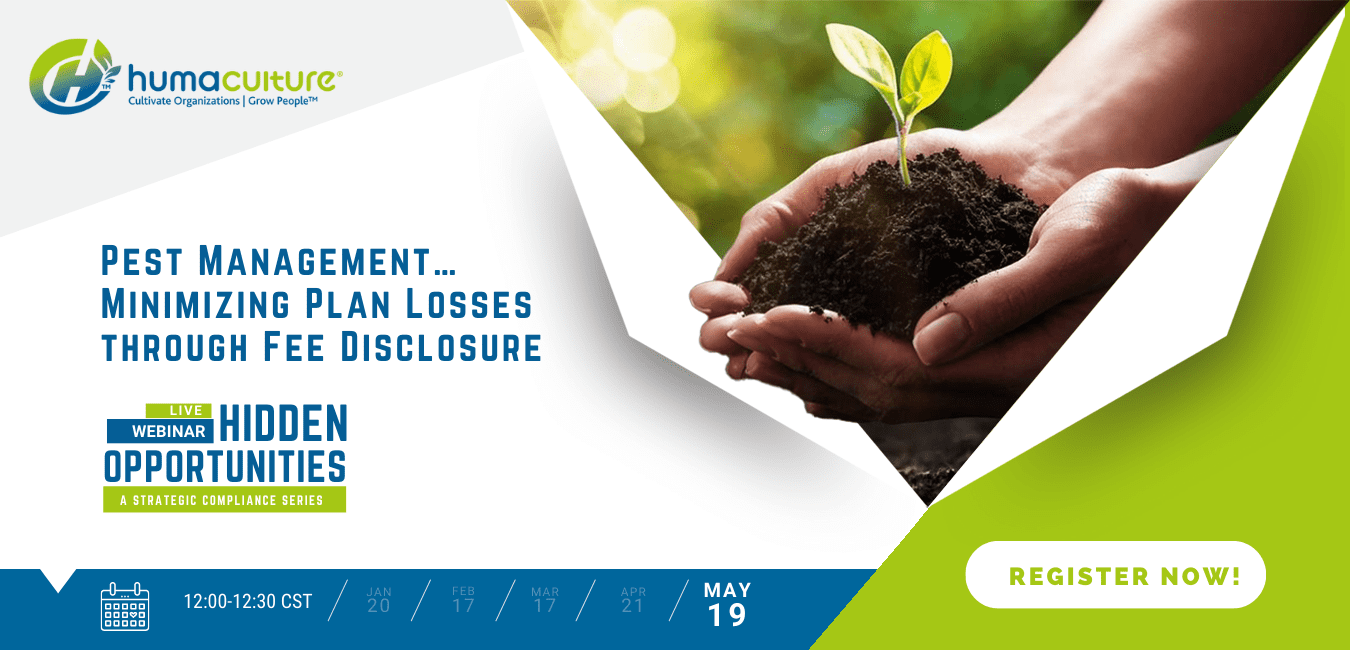 Join us on Thursday, May 19 from 12:00 to 12:30 CST for the fifth webinar in Humaculture, Inc.'s Hidden Opportunities, Strategic Compliance Series, to learn how to use fee disclosure to leverage behavioral design, seek strategic advisors, and optimize plan efficiency.
Presenters
Steve Cyboran, ASA, MAAA, FCA, CEBS, actuary and strategy consultant
Wes Rogers, Humaculturist® and strategy consultant
Jack Towarnicky, LLM, JD, MBA, CEBS, attorney, strategy and compliance consultant
Objective
Beyond basic compliance, this series addresses how to strategically leverage the No Surprises Act and Transparency in Coverage to create a competitive advantage for both the employer and employees. In this session we will include a focus on how leveraging Fee Disclosure as a means of "Pest Management" to leverage behavioral design to align interests with your advisors to take a strategic approach and identify conflicts of interest and inferior value in services provided.
Fee Disclosure Key Takeaways
During this session, participants will learn that:
It seems Congress doesn't believe group health plan fiduciaries are knowledgeable about fees
This may be a first step to shine light on fee reasonableness and conflicts of interest
While the plan fiduciary remains responsible, advisors are put on notice to disclose
Mere compliance ignores the opportunity to cultivate the organizational soil
Leveraging Fee Disclosure as a means of "Pest Management" can:

Identify conflicts of interest and inferior value in services provided
Avoid advisors who haven't already fully disclosed their compensation
Seek advisors who take a strategic approach, cultivate your organizational soil
Employ behavioral design to align interests