Webinar Replay: Surpassing Mere Compliance – Including Reference Based Pricing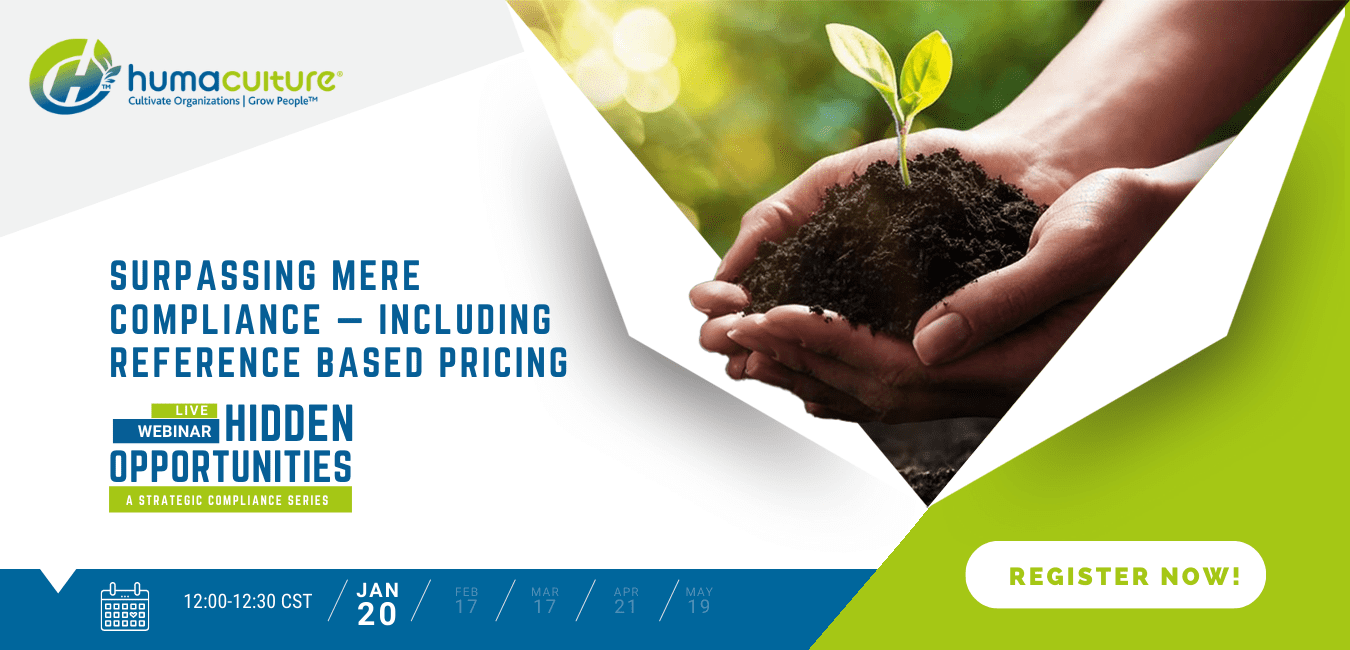 Watch a replay of the first webinar in Humaculture, Inc.'s Hidden Opportunities, Strategic Compliance Series, which focuses on Surpassing Mere Compliance and includes an example of using Reference Based Pricing.
Presenters
Steve Cyboran, ASA, MAAA, FCA, CEBS, actuary and strategy consultant
Wes Rogers, Humaculturist® and strategy consultant
Jack Towarnicky, LLM, JD, MBA, CEBS, strategy and compliance consultant
Objectives
Beyond basic compliance, this series addresses how to strategically leverage the No Surprises Act to create a competitive financial advantage for both the plan sponsor and plan participants. This session focuses on Surpassing Mere Compliance and includes Reference Based Pricing as an example of a strategic response to avoid compliance with many aspects of the No Surprises Act.
Surpassing Mere Compliance Takeaways
During this session, participants will learn:
The No Surprises Act doesn't eliminate all "surprises"
The No Surprises Act is likely to be inflationary
Mere compliance won't reign in costs, will increase administration, and may increase litigation risk
Using Reference Based Pricing as one example of strategic actions you can take to:

Avoid what can be avoided
Use tax preferences to finance what can't/shouldn't be avoided
Communicate all negatives as the result of compliance
Inform/educate consumers (before they become patients)
Available Support
We are available to support you in your strategy, design, compliance, financial, and monitoring needs. To that end, our team of consultants, including actuaries, clinicians, behavioral health, pharmacy, and legal resources are available to guide you through the compliance process. Please contact us.
Watch
Watch the Hidden Opportunities: Surpassing Mere Compliance – Including Reference Based Pricing Webinar Replay below, or via Rumble.