Webinar Replay: Pruning the Vines – Capabilities: Prune to Encourage Growth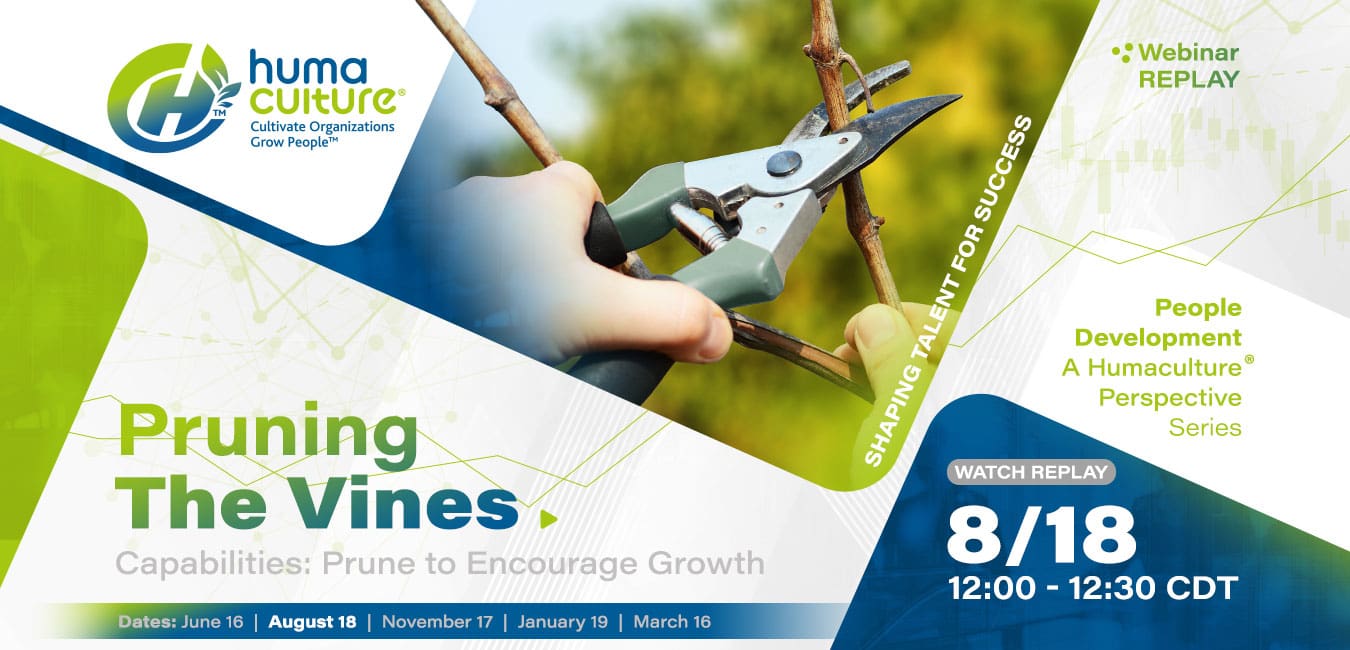 Watch a replay of the second webinar in Humaculture, Inc.'s "People Development: A Humaculture® Perspective Series", to learn how to shape talent for success by "Pruning the Vines," using capabilities to prune to encourage growth so employees to fulfill their potential and maximize alignment and productivity.
Presenters
Steve Cyboran, ASA, MAAA, FCA, CEBS, actuary and strategy consultant
Wes Rogers, Humaculturist® and strategy consultant
Christi Green, RN, MS, PHR, strategy and people consultant
Prune to Encourage Growth Objective
This webinar explores ways organizations can "Prune to Encourage Growth" to shape talent for the future. Capabilities can be used to help organizations select the best plants, determine how best to organize them in the garden, identify strengths and weaknesses, prune away distractions (weak branches) to encourage growth and fruit production.
Key Takeaways
During this session, participants will learn that:
Competencies tend to be just a checklist of skills to manage
People that focus on everything may not be very good at anything
Highly skilled employees may not thrive in management or leadership
Effective people development:

Is rooted in a clear understanding of organizational vision
Facilitates growth, supports optimal organizational (garden) design
Assesses skills and needs to support strategic priorities
Explores the employee's interests, abilities, and desires
Identifies potential for transitions, management, or leadership
Applies principles that work
Available Support
We are available to support you in your strategy, design, compliance, financial, and monitoring needs. Our team includes business and human relations leaders, finance experts, actuaries, clinicians, behavioral health experts, pharmacy experts, and legal resources to guide you through the strategy and compliance process. Please contact us: [email protected].
Watch
Watch the Shaping Talent for Success: Pruning the Vines – Capabilities: Prune to Encourage Growth Webinar Replay below, or via Rumble.