Career Planning: Effective Pruning Bears Fruit: Employee Development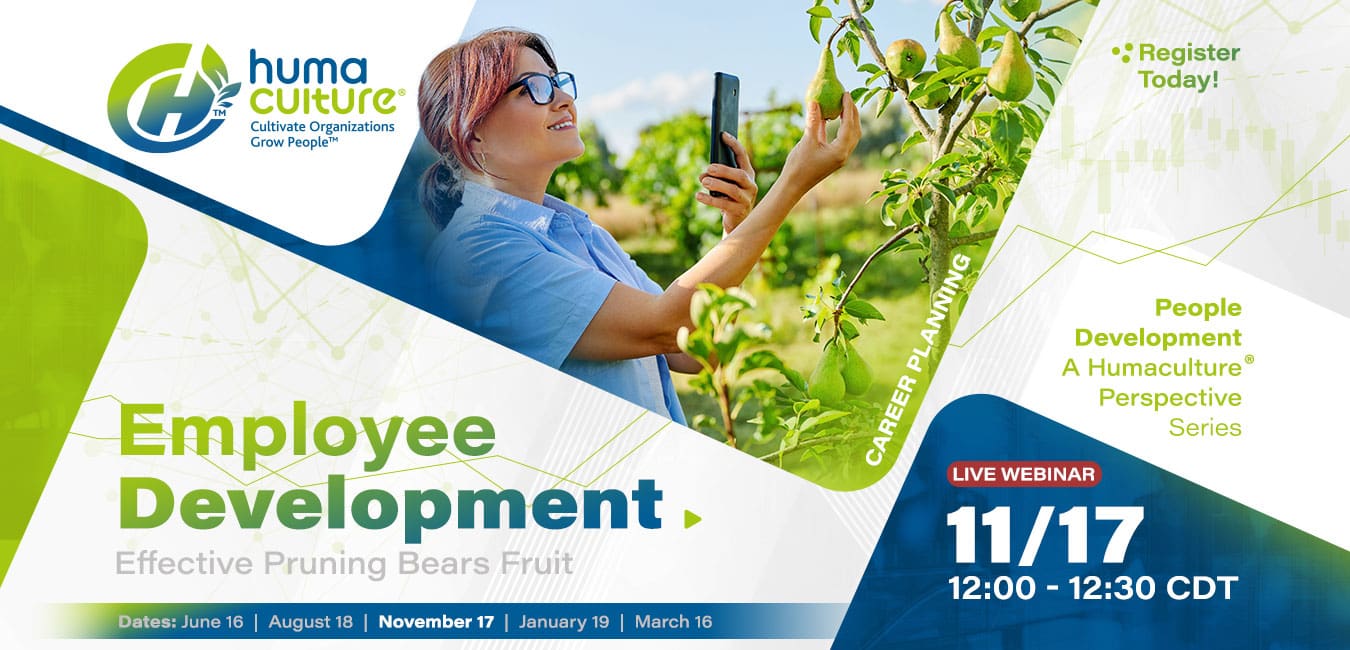 Join us on Thursday, November 17 from 12:00 to 12:30 CDT for the third webinar in Humaculture, Inc.'s "People Development: A Humaculture® Perspective Series." You will learn how to conduct Career Planning to support employee development, and why "Effective Pruning Bears Fruit" by building employee capabilities.
Presenters
Steve Cyboran, ASA, MAAA, FCA, CEBS, actuary and strategy consultant
Wes Rogers, Humaculturist® and strategy consultant
Christi Green, RN, MS, PHR, strategy and people consultant
Objective
We've talked about how to "Walk the Garden" to assess employees as well as help them develop capabilities to align with the organization's vision, mission, and values. Now it's time to talk about how to activate and inspire our workplace AND workforce to further grow and develop employees. Research is abundantly clear that engaged employees help organizations succeed and bear fruit. There is no silver bullet to increase retention/reduce turnover. However, we do believe that investing in the organizational soil and the culture to nurture and support people will bear the fruits of success!
Career Planning: Employee Development Key Takeaways
During this session, participants will learn that:
Organizations sometimes fall into the "warm body syndrome" trap
Unhealthy/misaligned cultures disrupt employee development efforts
Career planning tends to only occur only for a select few

For effective employee development organizations must:

Hire and develop intentionally to fulfill the vision, mission, values
"Prune" to focus growth as well as direct energy and effort
"Trellis and irrigate" to support desired growth
Prepare for appropriate transitions