Webinar Replay: Effective Pruning Bears Fruit: Leadership Development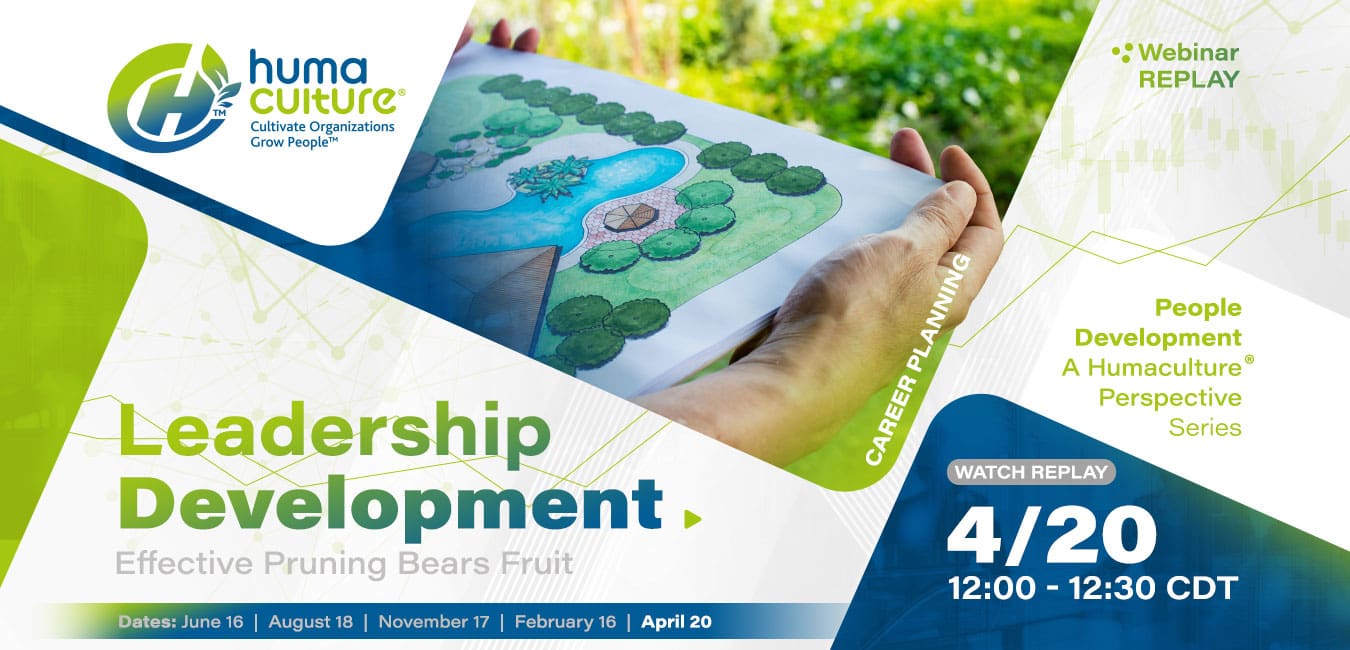 Watch a replay of the fifth webinar in Humaculture, Inc.'s "People Development: A Humaculture® Perspective Series" to learn how to conduct Career Planning to support leadership development, and why "Effective Pruning Bears Fruit" by building leadership capabilities.
Presenters
Steve Cyboran, ASA, MAAA, FCA, CEBS, actuary and strategy consultant
Wes Rogers, Humaculturist® and strategy consultant
Christi Green, RN, MS, PHR, strategy and people consultant
Objective
We've talked about how to develop managers to lead to growth and new directions as opposed to staying rooted in the current problems. Now this webinar focuses on how to develop leaders to advance strategy, focus on people, and inspire performance. This results in leadership cultivating the organizational "soil" which leads to real, practical changes that advance the business.
Career Planning: Leadership Development Key Takeaways
During this session, participants will learn that:
Leaders fail to make decisions
Leadership vacuums create confusion and a toxic environment
Leaders who lack a broad perspective undermine operations
For effective leadership development organizations must:

Understand effective leadership qualities
Build and cultivate the right organizational "soil"
Develop leaders who have good intuition and decision-making skills
Ensure well-rounded leadership team with appropriate autonomy
Nurture and develop for intended purposes
Available Support
We are available to support you in your strategy, design, compliance, financial, and monitoring needs. Our team includes business and human relations leaders, finance experts, actuaries, clinicians, behavioral health experts, pharmacy experts, and legal resources to guide you through the strategy and compliance process. Please contact us: [email protected].
Watch
Watch the Career Planning: Effective Pruning Bears Fruit: Manager Development Webinar Replay via Rumble.