Webinar Replay: Walking the Garden – Shift from Managing to Facilitating Growth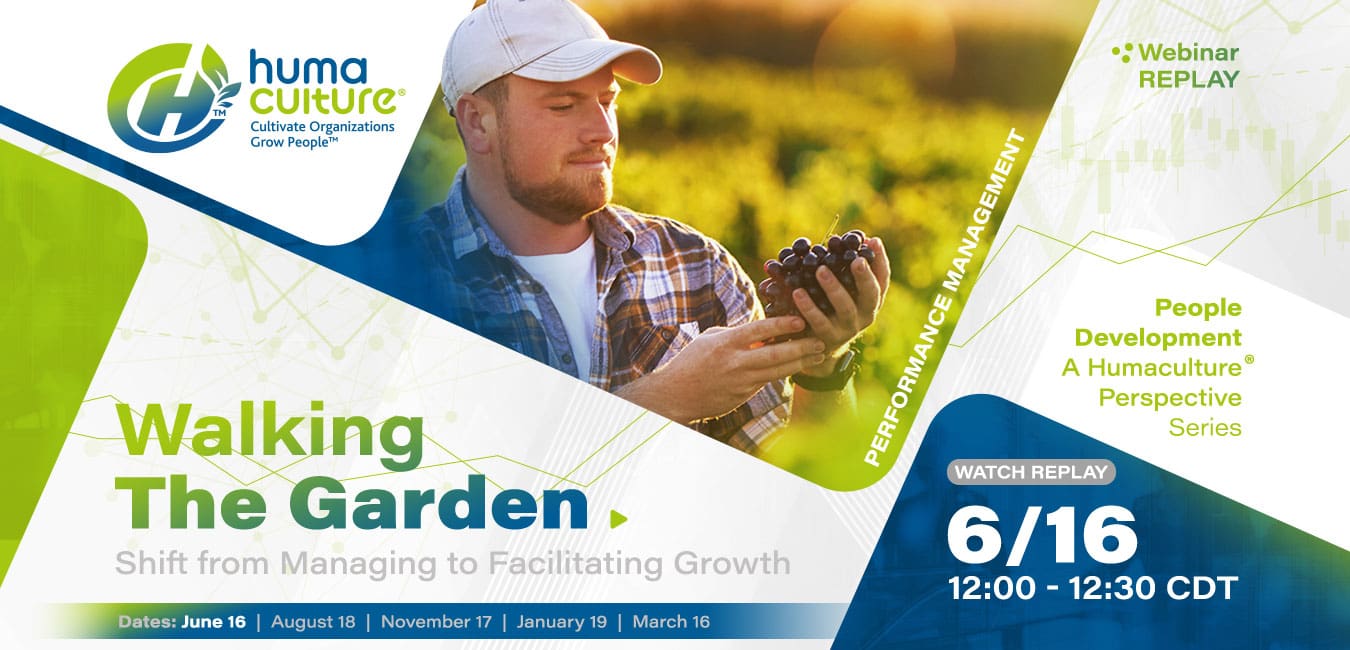 Watch a replay of the first webinar in Humaculture, Inc.'s "People Development: A Humaculture® Perspective Series", which focuses on how to "Walk the Garden" to build employee relationships, enhance culture, and improve productivity. We discuss transforming your performance management process into one that focuses on facilitating growth and productivity.
Presenters
Steve Cyboran, ASA, MAAA, FCA, CEBS, actuary and strategy consultant
Wes Rogers, Humaculturist® and strategy consultant
Christi Green, RN, MS, PHR, strategy and people consultant
Objective
This webinar explores ways organizations can shift traditional performance management from the dreaded once-a-year process that is focused on past performance into an on-going discussion. "Walking the Garden" builds strong relationships, keeps people aligned with the culture, helps identify issues early that may inhibit productivity, facilitates growth, prepares your next generation of leaders, and identifies opportunities for transition. This requires proper job design to ensure employees are "planted in fertile soil."
Key Takeaways
During this session, participants will explore:
The pitfalls of trying to "manage performance"
Why traditional "performance management" is a dreaded process, often detrimental to employee relationships, culture, and productivity
How manager job design and span of control may limit effectiveness
How effective people development will:

Shift from "managing performance" to facilitating growth
Help managers and leaders learn to "walk the garden"
Lead to better alignment between employees' personal/professional goals and the organization's strategic priorities
Available Support
We are available to support you in your strategy, design, compliance, financial, and monitoring needs. Our team includes business and human relations leaders, finance experts, actuaries, clinicians, behavioral health experts, pharmacy experts, and legal resources to guide you through the strategy and compliance process. Please contact us: [email protected].
Watch
Watch the Performance Management: Walking the Garden – Shift from Managing to Facilitating Growth Webinar Replay below, or via Rumble.