Compliance Toolkit Available Now – Navigating Compliance with the Patchwork of New Transparency Laws and Regulations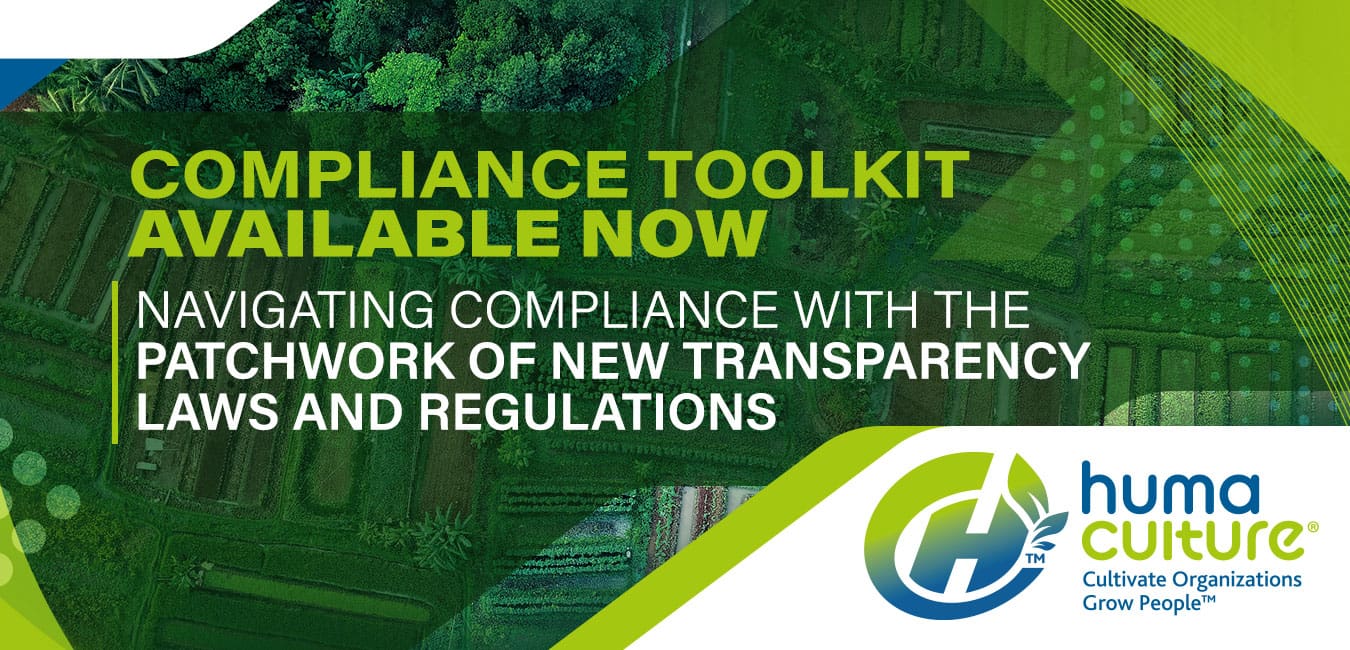 Many of the new requirements in the Consolidated Appropriations Act and the New Transparency in Coverage Regulations are effective in 2022, and some were effective earlier this year. Humaculture, Inc.'s Compliance Toolkit is designed to support your compliance needs. View a replay of our webinar overview of the Compliance Toolkit here.
Are you ready?
Do you know what to do as an Employer, Insurer, or Third-Party Administrator for group and individual health plans?
The new law and regulations require many changes to plan documents, Summary Plan Descriptions, administrative services agreements, and claim procedures. In addition, new disclosures must be provided to covered individuals and new reporting must be submitted to several governmental agencies.
If you do not comply, the penalties for noncompliance can be severe, up to $100 per day per affected individual.
Compliance Toolkit Contents
To address the situation, Attorney Howard Lapin, Actuary Steve Cyboran, and I have created a Compliance Toolkit to address all of the requirements in the new law and regulations. It contains over forty documents, including:
A detailed explanation of the law and regulations;
A compliance tool that highlights all of the required changes and what steps needed to be taken to comply;
Sample provisions for plan documents, Summary Plan Descriptions, and administrative services agreements;
All of the model notices that have to be provided to covered individuals;
Sample notices that have to be provided to participants; and
Sample disclosures and reports that have to be made to the governmental agencies.
There are over one hundred and seventy-five (175) pages of documents in this Compliance Toolkit. It has been specially designed for use by employers, insurers, brokers, and third-party administrator to help them effectively to comply with all of the requirements.
Notice: All items contained in the Compliance Toolkit comply with our current understanding of the requirements of the Consolidated Appropriations Act and the New Transparency in Coverage Regulations. The Sample Language, Model Language, Sample Reports, explanations, etc. have been prepared before all guidance has been released by the various governmental agencies. If any changes are required after any guidance is released, the Compliance Toolkit will be amended to reflect any changes (quarterly through September 30, 2022 at no additional cost). In addition, you are advised to seek legal counsel in the use of this Compliance Toolkit.
Webinar Reviewing the Compliance Toolkit
On December 14 at 1:00 pm we conduced a free webinar to review the Compliance Toolkit. We reviewed its contents and explained how it can be used to comply with the requirements. You can view the webinar here. Don't miss it!
Ordering
When you order the Compliance Toolkit, it will be provided to you in a Word file and can be easily branded for use with your clients.
How do I order? Contact us.
You can purchase the Compliance Toolkit for only $450 by responding to this email and we will invoice you for the purchase price.
The price includes quarterly updates through October 31, 2022 at no extra charge.
As soon as we receive your payment, we will send you a copy of the Compliance Toolkit.
If you would like to see a sample, please contact us and we will schedule time to review the Toolkit with you.
Questions? If you have any questions before or after ordering the Compliance Toolkit, please contact us.
Available Support
We are available to support you in your compliance and financial needs. This Compliance Toolkit, including Financial Analysis Tools will help facilitate self compliance. Our team of consultants, including actuaries, clinicians, behavioral health, pharmacy, and legal resources are also available to guide you through the compliance process, or we can take the lead. We would be happy to have a conversation regarding your needs and can customize a proposal for the level and type of support you may need. Please contact us.